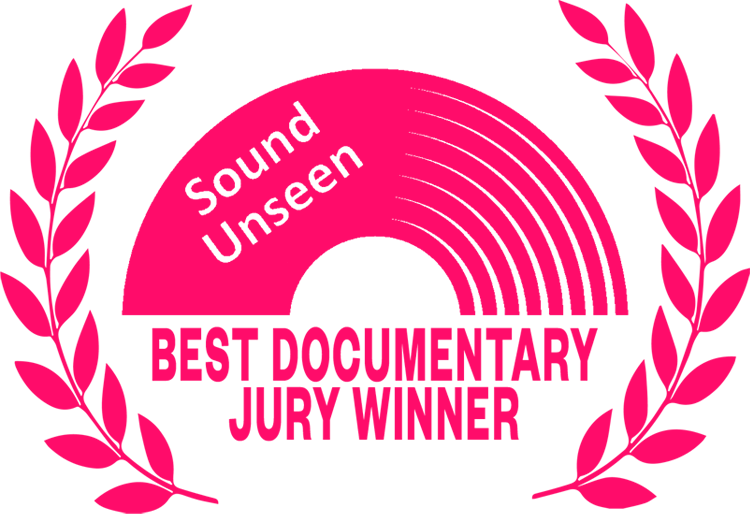 JURY AWARD:
SOUND UNSEEN MUSIC & FILM FESTIVAL
In our hometown of Minneapolis, BEING BEBE SOLD OUT the Walker Art Center Cinema.  Then we WON the Jury Prize for Best Documentary at Sound Unseen Film & Music Festival (and received a standing ovation!).
To win a juried award at a film festival is always a huge honor, and it ESPECIALLY means a lot for this film to be recognized as a music film – giving a nod to both the incredible score created by Hélène Faussart of Les Nubians, and the significance of music in BeBe's life. BeBe first got a taste of performance singing in the church choir as a child back in Cameroon, and evolved his talents through countless collaborations with other talented musicians over the years. 
Most meaningful of all, family, friends, and film family (SO many key folks who appear in and helped make the film) from all over the world and all stages of our lives trekked in through the fluffy Minnesota snow to celebrate with us – dressed in their finest Animal Print Eleganza!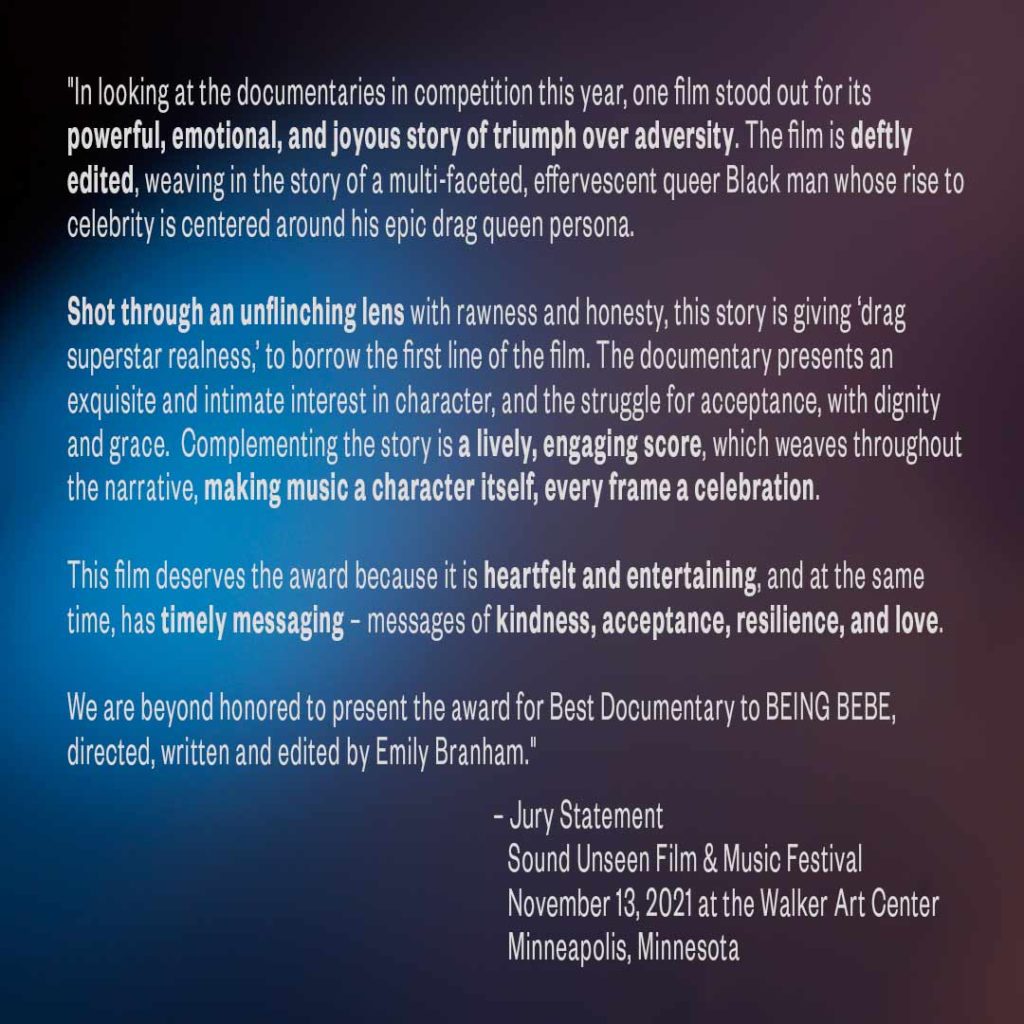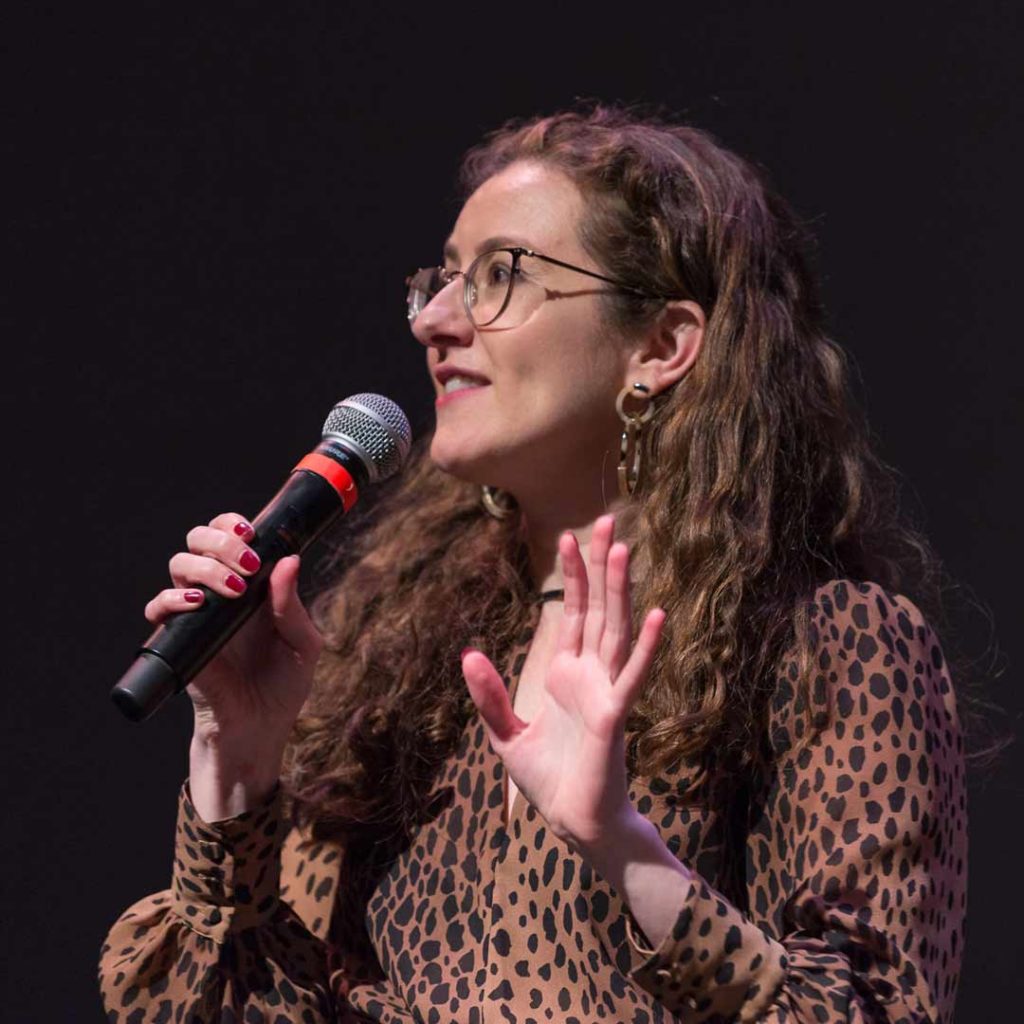 proclamation from the mayor:
bebe zahara benet day
in the city of minneapolis
ALSO: the MAYOR proclaimed it BeBe Zahara Benet Day in the City of Minneapolis!  BeBe's spiritual advisor Bishop Tonyia Rawls, who had traveled all the way from North Carolina, presented it to BeBe with a speech that moved everyone in the room.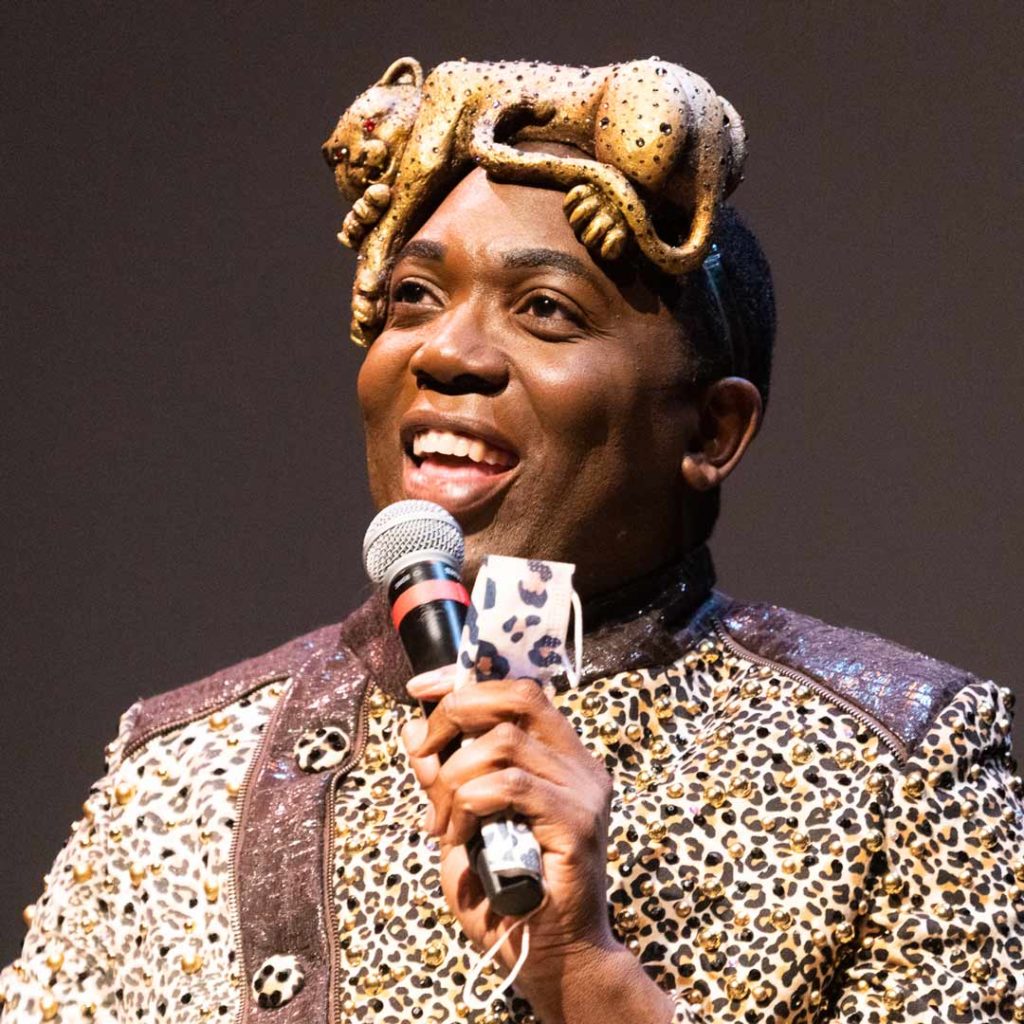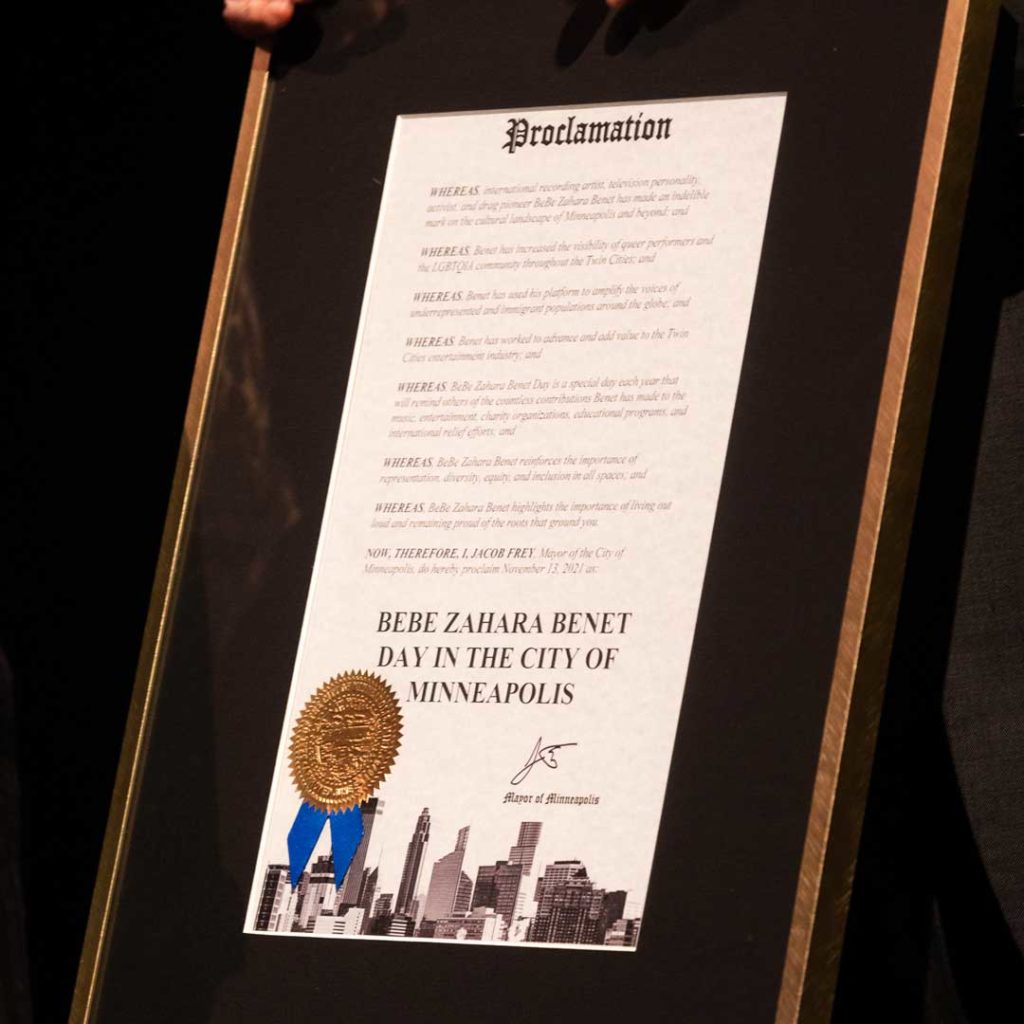 On top of all that: To honor both the Regional Premiere of the film in our hometown AND BeBe's 20 year anniversary of drag (BeBeXX), a mindblowing party at GlassHouse MN was sponsored by FilmNorth and pulled off gorgeously by BeBe's LavishLab & House of Zahara teams (with an extra dramatic hat tip forever to Diego Wyatt), featuring AERIALISTS from Vivid Black Paint and the most joyous dance party thanks to ShortleggDJ!
Leave it to BeBe to put the EXTRA in EXTRAVAGANZA – it was a true CELEBRATION that gathered many of BeBe's "villages" together in one place, and gave folks in Minneapolis – including many members of the Cameroonian-American community – something positive and uplifting to come together around and celebrate.  Still can barely believe it all happened in real life, it was so magical.
Photos by Tom Dunn and Greg Stevens for FilmNorth, and Darin Kamnetz for Sound Unseen.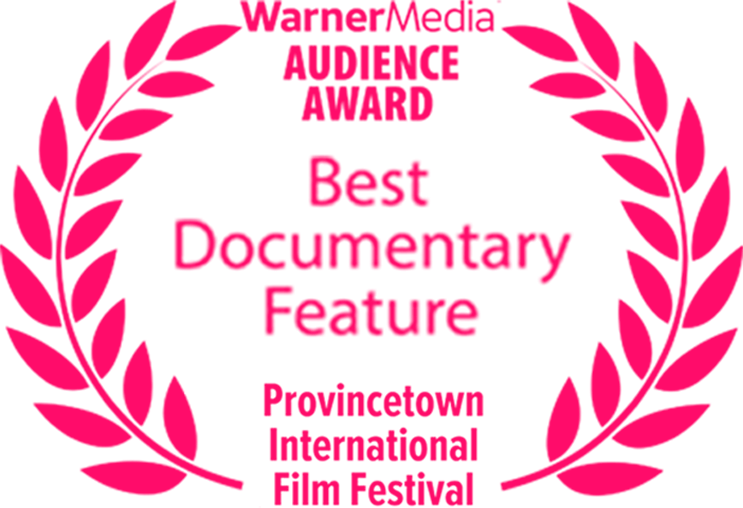 AUDIENCE AWARD:
PROVINCETOWN INTERNATIONAL FILM FESTIVAL
BEING BEBE won its first award in beautiful Provincetown, Massachusetts: The WarnerMedia Audience Award for Best Documentary Feature!
Thank you to the whole PIFF team for being such champions of our film, and special heartfelt thanks to the festival's warm and enthusiastic audiences for making our Closing Night In-Person Premiere so special.
DOCUMENTARY CENTERPIECE:
OUTFEST LOS ANGELES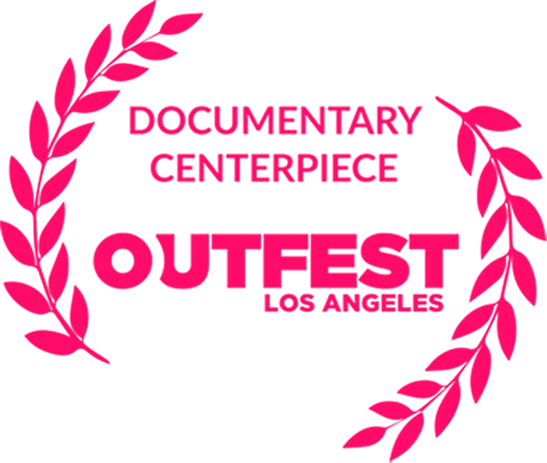 What a thrill to have our West Coast Premiere as the Documentary Centerpiece film of Outfest!  BeBe and her band, led by Taylor Hamilton, performed a fabulous set ahead of our screening at the beautiful Grammy Museum. It was also a real treat to connect with some of our LA-based film family, including folks from PEG and OUTtv.
CLOSING NIGHT GALA FILM:
TALLGRASS FILM FESTIVAL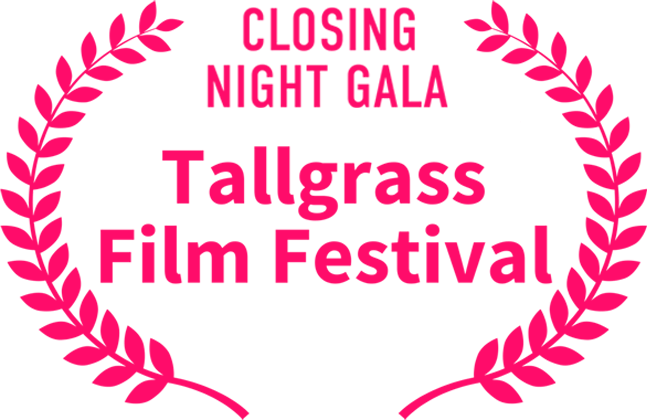 Oh, how I missed being in community with other filmmakers – especially the stubbornly independent set!
Tallgrass (in Wichita, Kansas) really knows how to gather terrific people together and make indie filmmakers feel like superstars. Extra appreciative of the quality friendships made (and deepened) at this truly special gathering. The Orpheum is a gorgeous theater and the biggest room we've played so far!  Also: can you think of a more inspired idea for a closing night party than a Drag BBQ at Cowtown, a historic old-timey open-air museum??? Support your local queens!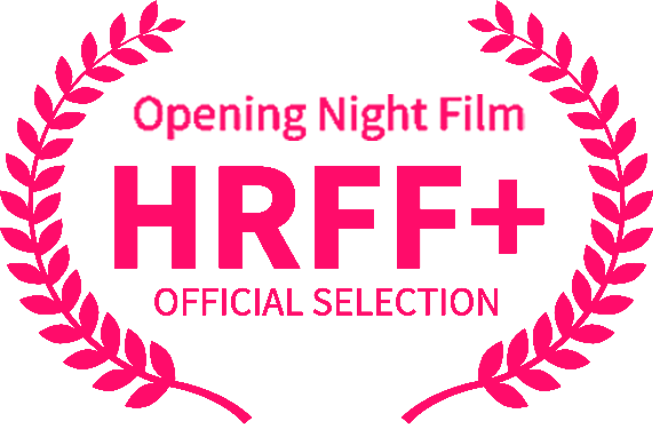 OPENING NIGHT FILM:
JAYU HUMAN RIGHTS FILM FESTIVAL
Was such an honor to be the Opening Night of Jayu Human Rights Film Festival at the Ted Rogers HotDocs Cinema in Toronto – on International Human Rights Day, no less!  We were so thrilled that festivals are recognizing that BEING BEBE is a Human Rights story within a Music & Arts film.  Jayu is a festival that really walks the walk when it comes to inclusion and accessibility. Our relaxed screening (lights dimmed rather than dark, open captions, lower volume, flexibility to come and go) was a revelation – the audience was at least as engaged (if not more engaged) than our other screenings to date. They also opened the night with a live poetry slam performance, and had a terrific ASL interpreter live-signing the opening remarks and Q&A. The opening night party was also a blast!
With the pandemic still being all-too-real in the year of our release, there are many special events that we were unable to attend in person. So grateful for all the organizations and individuals that continued to fight the good fight of supporting independent film despite all the challenges of these times.
WOWIE AWARD NOMINEE:
HOTTEST DOC (BEST DOCUMENTARY)
A real honor to be in the company of these terrific films!  Big congrats to Michelle Visage and the EXPLANT team on your win – and huge thanks to World of Wonder for the nomination.